Wilson's Point Historic Site
This provincially protected site has had many names including Camp d'esperance, Boishebert's Point, Beaubear's Point and of course Wilson's Point. It has been summer hunting and fishing grounds for the M'ikmaq and a refuge for expelled Acadians. The site of a bustle settlement of Scots once owned by William Davidson, who was given the Point as part of his 100,000 acres land grant in 1765, had dreams of it becoming the center of town. It was here, where both rivers surrounded in making for easy access and the road from Fredericton ran through and along it's banks. There once was a tavern and several business on the property and a graveyard that predates the original church. It was also the midway point of a horse powered ferry system from Nelson to Newcastle run by John Wilson, whom the area is named after and later restored by Dr. Louise Manny and Lord Beaverbrook, Max Aitken beginning in 1948 and was gifted to the Province from Lord Beaverbrook in 1949 as a park.
One can meander along the trails that skirt the banks of both branches of the Miramichi and stop to reflect in the ancient graveyard that at one time was the last resting place for nearly 250 Scottish settlers and the footing course of the original church that stood from 1791-1838. Sadly there are only 17 recognizable graves still in existence, including Williams Davidson himself, the rest lost to erosion as early as 1850 and others neglected until Lord Beaverbrook restorations of the grounds in 1948 and again in 2003. There are plenty of places to stop and relax a bit while enjoying the solitude and peaceful of the area. The stories the graveyard holds are touching, romantic and a little bit haunting, the knowledgeable staff will deliver these tales, of those whose remains are entombed, with relish and enthusiasm.
The site has a dock that stand's near the old ferry landing that the public is free to use to visit the site and also makes for a great spot to cast a line in hopes of reeling in a Striped Bass. The Davidson's Trading Post houses farming and lumbering implements and is also a great place to have a family picnic at the large covered picnic bench. The church is the perfect venue for a small quaint country wedding and is available for rent.
The Church and Trading Post are open daily from June to October, or by appointment during the shoulder season and the grounds are available at your leisure year round.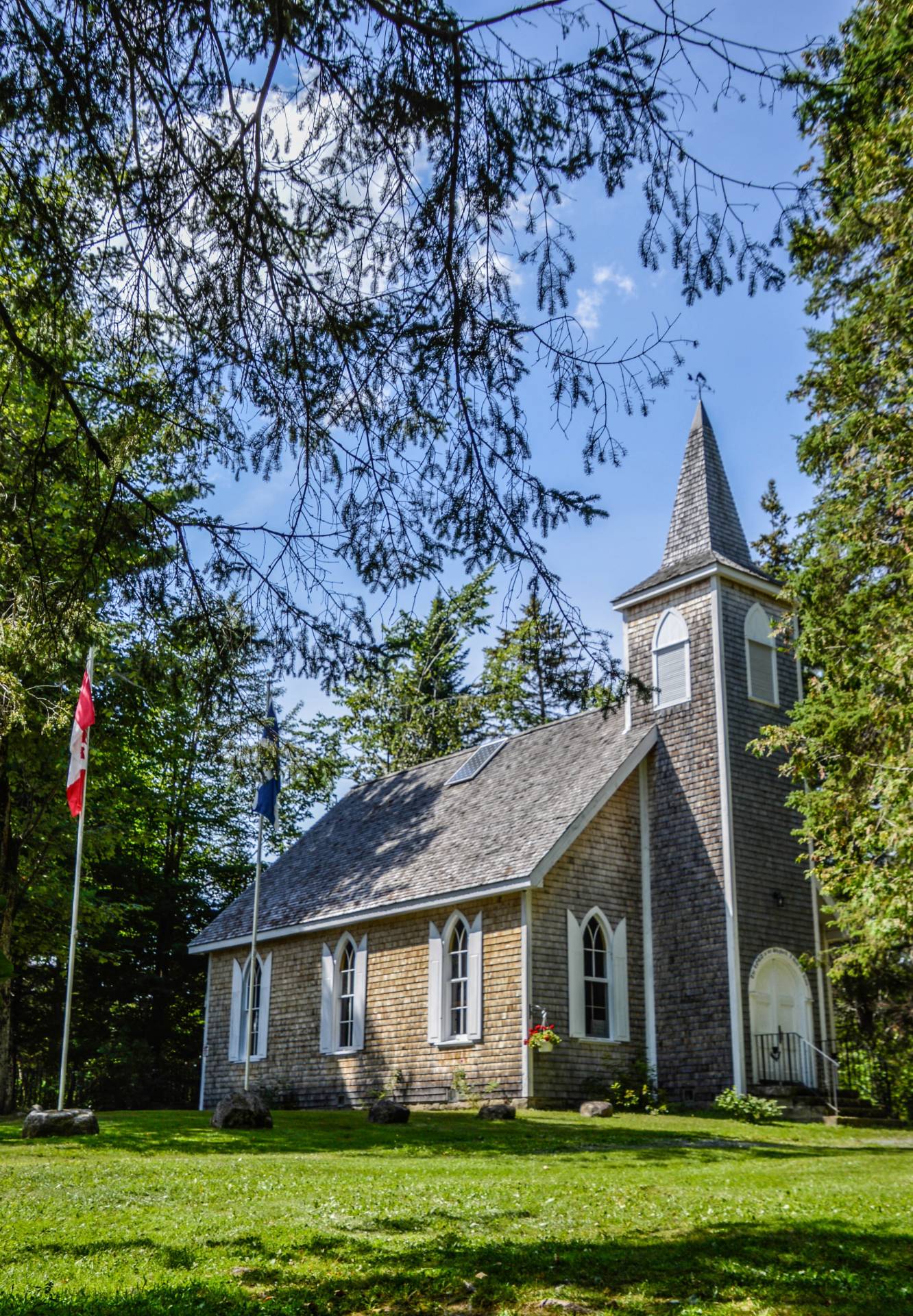 Official Opening
Wilsons Point Historic Scottish site opened on Sunday June 7th, 2009.
In attendance will be Lieutenant Governor Hermenegilde Chaisson and Lucille Campey, author of the book "With Axe and Bible" a history of the Scots contribution to the development of New Brunswick. Also our Member of Parliament Tilly O'Neill-Gordon and Minister of Public Safety John Foran will be in attendance.
Entertainment was provided by the Miramichi Highland Dancers.
Before and following the ceremonies, musical entertainment was provided by:
Fredericton District Pipes & Drums
8th Hussars Pipes and Drums, Moncton.
Lunch of Tea, Scones and Coffee was served.